This is a summary of Ace's love route in Heart no Kuni no Alice and Anniversary no Kuni no Alice.
Stay Route
Lost in the Castle
Whilst walking around in the Castle of Hearts, Alice finds herself lost. She meets Ace who is in the same situation as her and they end up having a conversation about getting lost. Ace keeps insisting that it's alright to get lost in the Castle whilst Alice says it isn't. Ace eventually offers to help Alice find her way but Alice rejects his offer stating that it wouldn't be a good idea. Alice ends up saying to herself that even if she gets lost many times she won't rely on Ace alone.
Camping in the Castle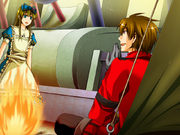 Camping in the Forest
Ace vs Peter
Alice's Room I
The Ball
Alice's Room II
End
Non-Stay Route
Non-Stay Tower Route
Ad blocker interference detected!
Wikia is a free-to-use site that makes money from advertising. We have a modified experience for viewers using ad blockers

Wikia is not accessible if you've made further modifications. Remove the custom ad blocker rule(s) and the page will load as expected.