Welcome to the Wonderful Wonder World Wiki
This wiki is your guide to everything related to Quinrose's Heart no Kuni no Alice series.
Anyone can edit the 376 existing articles and create more on this wiki.
News
25/09/2015
Art Move Corporation, Quinrose's parent company, officially suspended business. Due to this, English publishing companies are no longer able to release localized media.
22/11/2013
24/05/2013
20/04/2013
Quinrose will renew Heart no Kuni no Alice using Fujimaru Mamenosuke's art and a better system.
18/04/2013
(More...)
Featured Article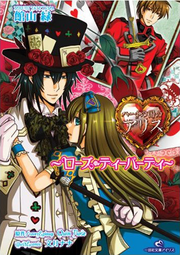 Escaping in the dead of night from a gunfight between Peter the Prime Minister and Ace the Knight of Hearts, Alice gets herself lost in the forest. She soon comes across the Hatter Family. Blood Dupre the boss of the Hatter Family who decides to kidnap her. What will Alice's fate be!?(more...)
Poll
Who is your favorite romance option?
Poll
Which territory do you want most to live in?
Ad blocker interference detected!
Wikia is a free-to-use site that makes money from advertising. We have a modified experience for viewers using ad blockers

Wikia is not accessible if you've made further modifications. Remove the custom ad blocker rule(s) and the page will load as expected.