Welcome to the Wonderful Wonder World Wiki
This wiki is your guide to everything related to Quinrose's Heart no Kuni no Alice series.
Anyone can edit the 426 existing articles and create more on this wiki.
News
7/1/2018
The English patch for Anniversary no Kuni no Alice has been completed and released
5/4/2018
The English subtitles for Boris and Nightmare's Musical Revival endings have been completed
4/10/2018
English subtitles for the HnKnA Musical Revival are announced as being in the works
25/09/2015
Art Move Corporation, Quinrose's parent company, officially suspended business. Due to this, English publishing companies are no longer able to release localized media.
(More...)
Main Characters
Featured Article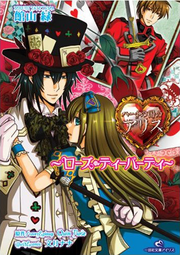 Escaping in the dead of night from a gunfight between Peter the Prime Minister and Ace the Knight of Hearts, Alice gets herself lost in the forest. She soon comes across the Hatter Family. Blood Dupre the boss of the Hatter Family who decides to kidnap her. What will Alice's fate be!?(more...)
Poll
Who is your favorite romance option?
Poll
Which territory do you want most to live in?